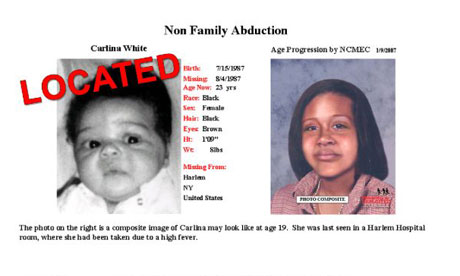 A woman who was the victim of a high profile baby-snatching case in the US twenty-three years ago has been reunited with her family after uncovering her own abduction.
Carlina White was 19 days old when she vanished from Harlem Hospital in 1987. Her parents, Joy and Carl, had taken her there as she was suffering a high fever, and once she was admitted, they left for the night to rest. A woman dressed like a nurse helped them but when they returned the next day both the 'nurse' and their daughter had vanished.
No suspects were ever identified in the disappearance and the hospital had no surveillance video. A $10,000 (£6,200) reward was offered but the years passed and there was no information.
Now, in a story that has caught the attention of America, has come a rare piece of good news during a difficult start to 2011: the kidnapped baby and her mother and father have now been reunited. They were last night together in a hotel room in New York.
More