--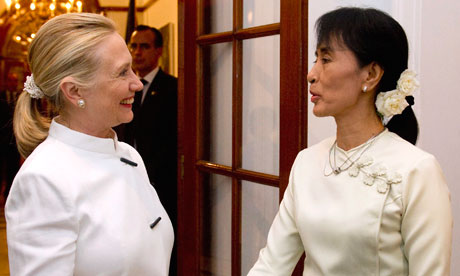 Aung San Suu Kyi, the Burmese pro-democracy campaigner and Nobel prize winner, had dinner with US secretary of state Hillary Clinton on Thursday night in a diplomatic residence in the port city of Rangoon.
The extraordinary meeting came at the end of Clinton's first full day of her historic trip to the isolated south Asian state, the first by a top-ranking American official for more than 50 years.
Earlier she met the new president, Thein Sein, and senior officials in Naypyidaw, the country's recently constructed capital.
"I am here today because President Obama and myself are encouraged by the steps you and your government have taken to provide for your people," Clinton told Thein Sein as the two sat down for talks in the vast – and apparently largely empty – presidential palace.
Thein Sein, who has led a nominally civilian administration since March, welcomed Clinton on a visit he said would be a "milestone".
"Your excellency's visit will be a new chapter in relations," he said.
Clinton's trip comes after changes in Burma that have astonished many observers. Aung San Suu Kyi has been freed after more than 20 years of house arrest and prison, and tentative moves have been made to reduce censorship and create new laws permitting limited political demonstrations.
Last year saw parliamentary elections which, despite being rigged to give the pro-regime party a huge majority, were nonetheless welcomed by observers.
Though the military dominates most institutions and much of the economy, many senior figures believe Burma, currently under US and European Union sanctions, needs to reintegrate the international community, analysts say.
More